Every sketch tells a story
Early sketches can be quite abstract, but they are often the most important, as they are instrumental in facilitating initial ideas and help to create focus and the overall vision for a project.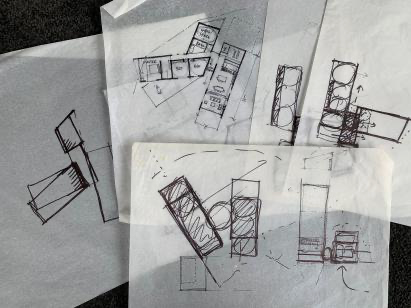 They are early visual representations of our thought process, and will be the first of many iterations
These initial thoughts and ideas are distilled and developed into rough sketches of specific moments, such as the exterior of the building, framed views, the point of arrival and key internal spaces.
A 3D picture of scale, form and materiality is created
Early floor plans are drawn by hand, too, as this leaves us with the freedom to rapidly overlay ideas, brainstorm, ideate and redraw with fluidity.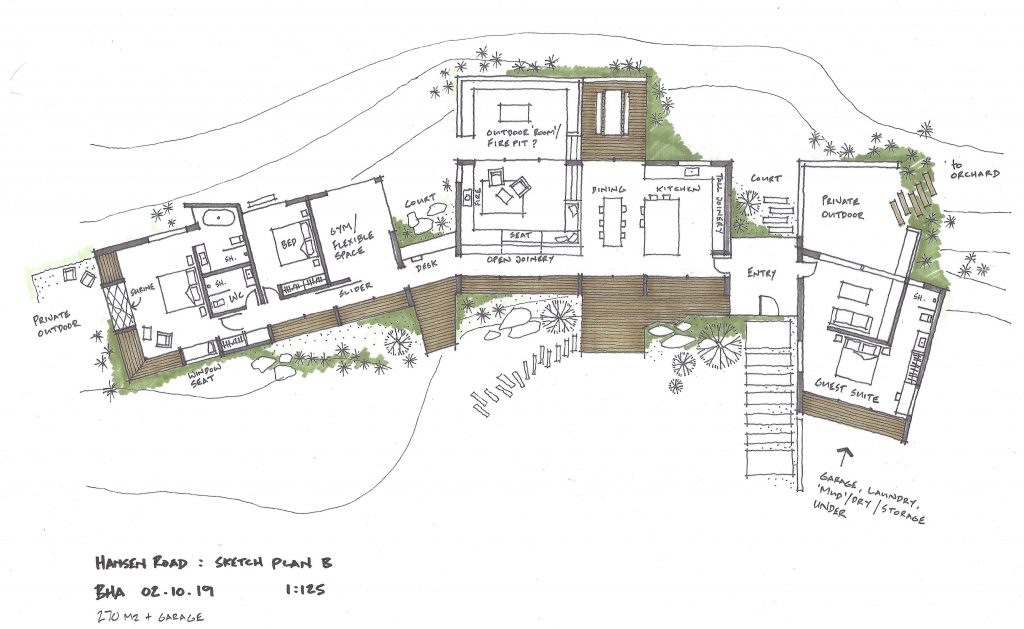 Hand drawing lends itself to a more inspiring sense of context that can be lacking from a CAD plan
With a few marks of the pen, we can hint at landscaping and connections between internal and external spaces.
The design feels more connected with the landscape and outdoors, rather than being confined to perimeter walls.
Sketches are a fast, flexible and effective way of portraying a design intent, without the feeling that it is set in stone (like a slick render might suggest)
That sense of imperfection and impermanence invites interaction and allows us to engage with a client on a more personal level.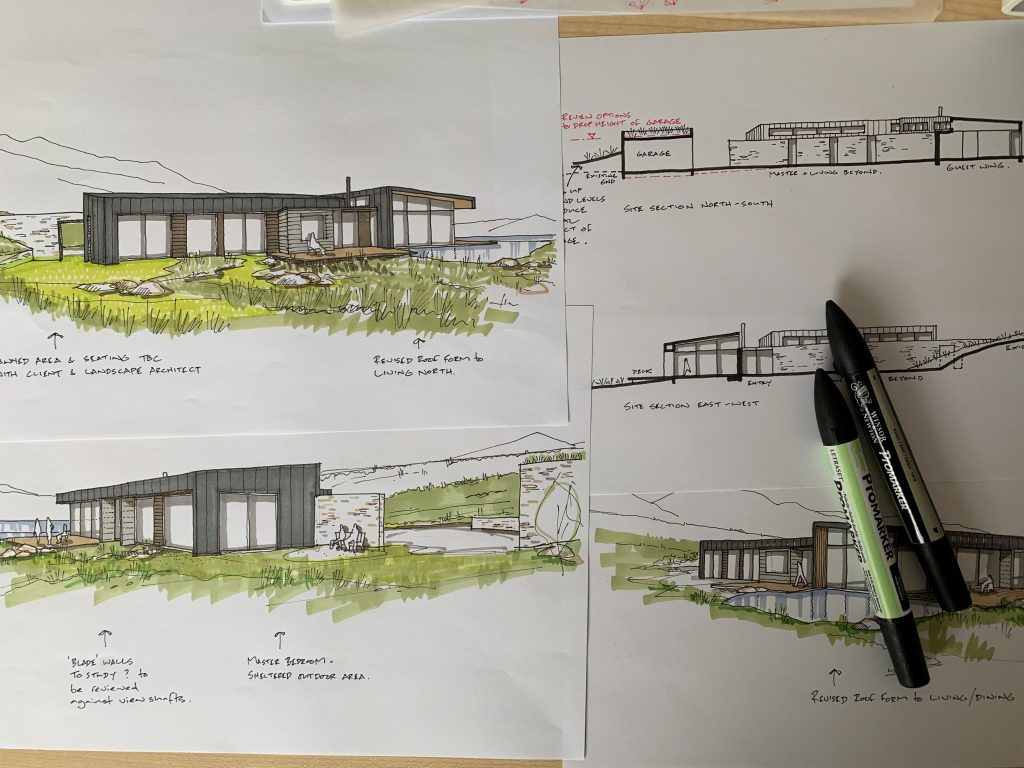 Initial ideas are almost always sketched out by hand, but we see 'analogue' and digital working together, one informing the other
CAD software is hugely powerful, and allows us to quickly map out the topography of a site and test out basic building forms.
Often we'll use this information from which to develop hand sketches, then we move fluidly back and forth between digital tools and freehand.
Hand drawing also helps to connect clients with the design process
By listening to our clients and finding out what matters to them, we're able to quickly respond with personal touches, like pieces of artwork, a favourite view or a much-loved pet.
This helps to engage the client with the design on a more human, personal level, and opens up dialogue between us.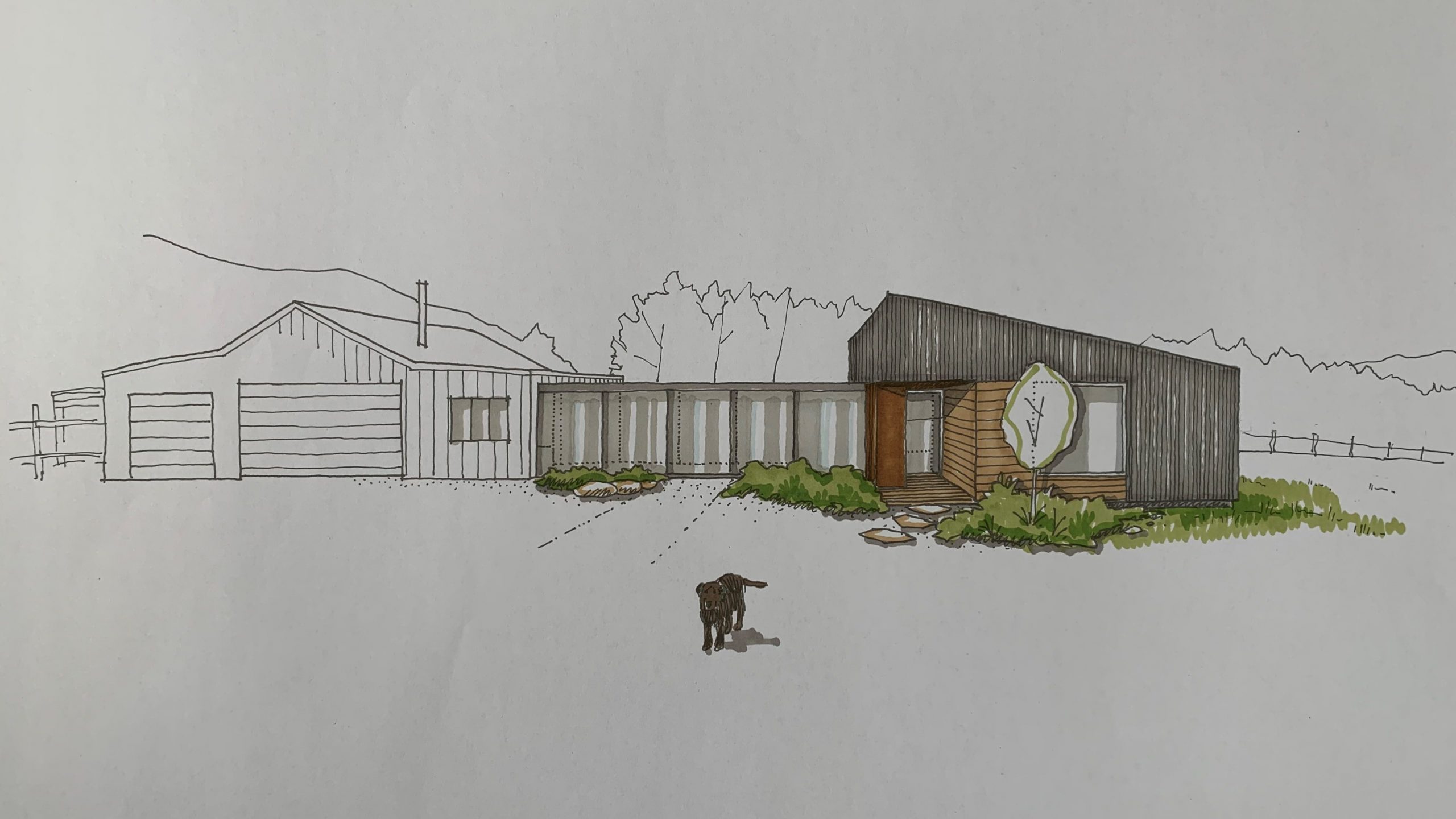 Using butter paper or a roll of architect's soft tone sketch paper allows us to superimpose layers of detail, and overlay new ideas and concepts over older ones
A range of black Artline Fineliner pens produce different line widths, and we provide washes of colour or tone with Letraset Promarkers or soft white pencil.
Drawing is important to us
While architectural school teaches the basics of architecture, many of our skills were gained through having an inquiring mind, and always carrying a sketchbook as a student.
Sketches carry a lot of meaning and memories. Some of our favourites were done travelling, using whatever means were on hand – often a cheap notepad and a biro.
They still bring back happy memories.