We believe that employing an architect for a new build or extension is money well spent (and we obviously have a vested interest here!..)
In a previous journal we looked at the advantages to be gained by using an architect. But how do you know how to choose the 'right' architect? Here are seven questions you might want to ask an architect before contemplating your building project.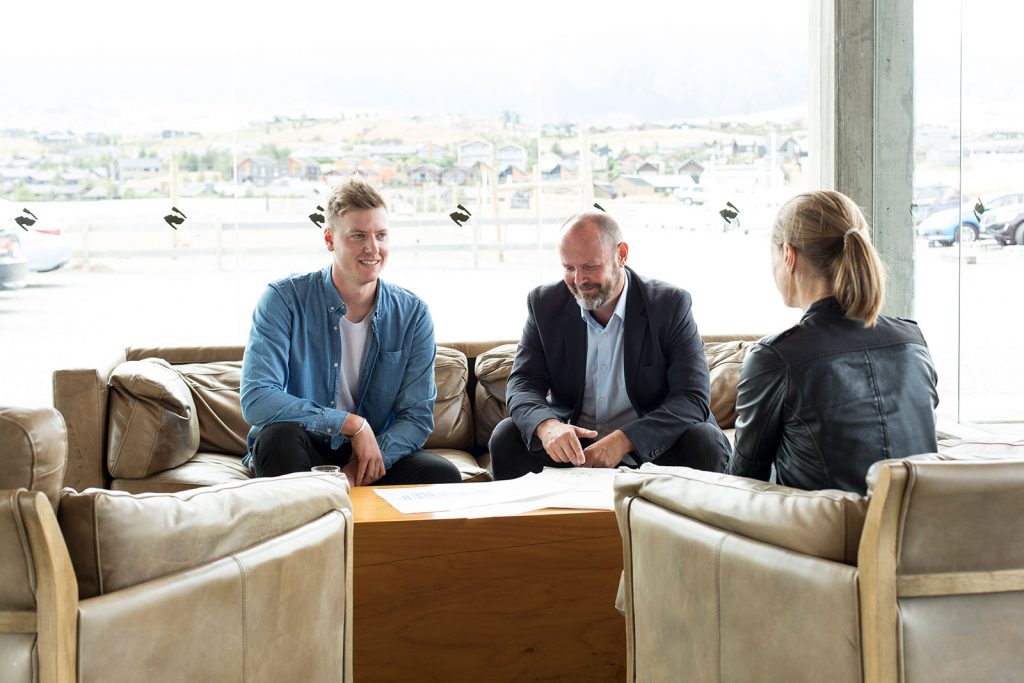 What's my own involvement in the process?
The answer may depend on how involved you actually want to be. Some clients come with a few general ideas and let the architect propose solutions. Other clients will have very specific ideas about what they want. Either approach can work, as an architect is trained and equipped to glean the critical information from you, but it's important to discuss the approach so that the relationship with client and architect is understood.
By discussing this early on you can gauge how much time will you'll need to commit, and what information the architect will be asking you to provide.
Who will be on the team?
The building process takes time from initial aspirations to built form, so you'll want to know who you'll be dealing with through the life of the project.
We know from experience with larger firms that often the person you initially spoke to may not be the one handling your work. This isn't necessarily a problem, but if the project is fielded out to a more junior member of the team there could be disconnect higher up the chain, with the initial vision lost sight of. With the architectural process it's normal for work to be delegated, but ask the question, so that you know who'll be designing the project, and who'll you'll be dealing with on a day to day basis. Good relationships are the key to a successful project.
What's your fee structure and expected scope of services?
Architects use different fee structures to charge for their services, depending on the complexity of the job, and the breakdown of fees and scope of service should be clearly spelt out. Some services will be part of the Agreement, others will come at an additional cost.
Fees can be based on hourly time charges, lump sum fixed fees, a percentage of the anticipated contract value or a combination of these. Architects may also charge for some disbursements such as printing of drawings and vehicle mileage.
What are the deliverables?
This will be linked to question 3 above; within the scope of service, what deliverables should you be expecting for each stage of the project? Or in other words, how will it be presented to you? Will there be a 3D model? Nearly all architects use 3D software to draw, but often this is just the means of delivering a 2D set of drawings.
Each client will have their own comfort levels in terms of reading and understanding drawn information. For example, can you read a plan or a construction detail? Understanding what drawings you can expect, to what level of detail, and when you'll receive them will help you on your journey through the design process.
Most architects will use the standard New Zealand Institute of Architects Agreement for Architectural Services as a contract between architect and client, which will give a detailed breakdown of services and deliverables tailored for your project.
What are the specific challenges you see with this project?
In other words, you're asking the architect about the bigger picture. Every site comes with some challenges or constraints. Equally there will be opportunities. Different architects may tackle the issues in different ways, but their answers will be an indicator as to how they will approach the design, and will give you an early insight into what may be involved.
Who else should be part of the team?
Architecture is usually a collaborative process, and there will often be a need for other consultants to be part of the design. For example, a quantity surveyor for cost advice, structural engineer, planning consultant, geotechnical engineer, surveyor, heating and/ or thermal engineer, landscape architect etc.
The need for separate consultants will vary from project to project, but the architect is well placed to act as lead consultant so it is worth asking them which separate consultants might be required in the successful delivery of your project. This will assist you in planning and budgeting for the project.
What's the estimated timescale for my project?
You will probably want to know an estimate of how long each stage of the design will take through the life of the project. Firstly, you should be asking when the architect would be ready to make a start (this might not be immediately depending on current workloads and resourcing). Then you'll want a breakdown for each stage, allowing for some time for your own review and approval between the various stages. Having this information allows you to plan ahead with your finances.